We always make sure that there is something happening here at the Golden Guinea. We provide weekly events that everyone can come down and enjoy. From LIVE music to pirate themed days taking place, we have everything you need to have a great time! Check out all our events below.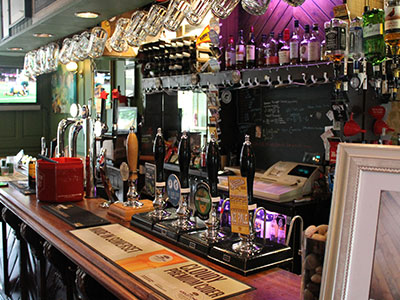 Tuesday
LIVE Folk Performers - Join in or have a listen
Time: 8 pm
If you are a lover of folk music, then this is most definitely the night for you! Enter the Guinea and you'll find an English folk collective playing in the centre of the pub. They encourage you to get up, dance and sing along to your heart's content. This one really is for all you country bumpkins out there and we love the friendly and relaxed atmosphere that gets everyone involved.
Thursday
Vinyl Sessions - Bring and play your own vinyl or choose something from our collection.
Time: 8 pm.
Hit the deck and show just how good a DJ you really are! Bristol's aspiring DJ's playing a fantastic range of funk, hip hop, soul and reggae will have you chilled out and relaxing with a pint in no time. You are always more than welcome to bring your own tunes and it'll be like sitting at home in your PJ's.
Sunday
Super Sunday - 10% of all cask, keg, and bottled ales. Jazz/Trip hop/Chillout tunes.
Time: All day
This event really does speak for itself. I mean 10% off some of the finest beers and ales the city has to offer? I know we must be mad! Come down and relax on a Sunday with one of our many amazing pints and listen to some pretty mellow beats.
Here at the Golden Guinea our events change regularly and we do put on one off events, so don't be afraid to call us on 0117 987 2034 to see exactly what is happening each week!