If you are heading to Bristol's Harbour Festival this weekend then make sure you pop into the Golden Guinea. Making sure we have stocked up on plenty of plastic cups and the finest beers for the weekend we will make sure you have an awesome festival!

The FREE event will see a plethora of amazing stalls and markets from all over the city, and further afield, come together to celebrate the incredible maritime history of Bristol's Harbour. This means that with all this tasty food and drink floating about, you'll need somewhere relaxed and comfortable, within walking distance of the Harbour to come and relax after a hard day enjoying yourself. Well, the Guinea is perfect for that! Come and relax with friends and enjoy one of Bristol's bets weekends around the Harbour.
We have also made sure that if you want to have a wander about, but also want the best beers the city has to offer we have stocked up on a range of new and delicious cans, as well as plenty of plastic cups you can take outside and hopefully enjoy the sunshine!
Just a handful of our current list of beers consists of -
Powder Keg Beer - Cut Loose - Cut Loose is a traditional pilsner pepped up with a touch of the Motueka hop from New Zealand. The result is a dry, satisfying lager with invigorating citric fruitiness, made for carefree capers. Winner 'Best Lager - IWSC Beer Awards 2016.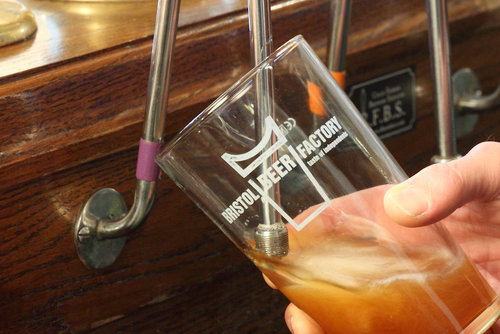 Bristol Beer Factory - Nova - A light malt base; Maris Otter, CaraPils and wheat malt allows the bright, fresh and zesty hop aromas to shine - underpinned by herbal and floral notes.
Arbor Ales - Oz Bomb - Heavily hopped golden bitter brewed with a small amount of caramalt and plenty of Australian Galaxy and Vic Secret hops. It has tropical fruit flavours and aromas with a long bitter finish.
CANS
Beavertown Brewery - Bloody Notorious – (A Blood Orange DIPA) - Taste buds of the IPA masses have been entrenched for the last few months in zest and juice of the mighty Sicilian citrus, there were no survivors. Now a new champion is sent to examine the desolation, flex his juicy supremes and take his seat as the new king. Welcome Bloody Notorious DIPA! Long may you reign.
Tiny Rebel Brewing - Clwb Tropicana - This grown up fruit salad is as colourful as a hideous Hawaiian shirt you've ever seen. It's super juicy and crammed full of fruity hop flavours that will have your mouth watering. Imagine sitting by the pool in the blazing sun with a cocktail in one hand, but instead of a dainty little glass, it's served by the pint! Packed full of American hops, amplified by Peach, Passionfruit, Pineapple and Mango flavours!
So, this festival weekend, make sure you pop in and visit us at 19 Guinea St, BS1 6SX. You can even give us a call on 0117 987 2034 or check out Facebook to see all the events and offers we will be putting out throughout the festival.