We at The Golden Guinea are pleased to announce that we will be serving The Feastie Boys sausage rolls, both meat and veggie. The meat sausage roll is made with pork, caramelised onion, smoked paprika and fennel. The veggie is made with roast leek, garlic and butter bean with nigella seed. Mmmmm!! The Feastie Boys products are inspired by their love of quality food, well sourced meat and punchy flavours. All the ingredients are sourced from local suppliers and everything they can is cooked from scratch. From meat lovers to vegetarians - our bar snacks aim to bring colour, taste and health into your day. The Feastie Boys also trade from markets in and around Bristol, see their news feed for where they'll be.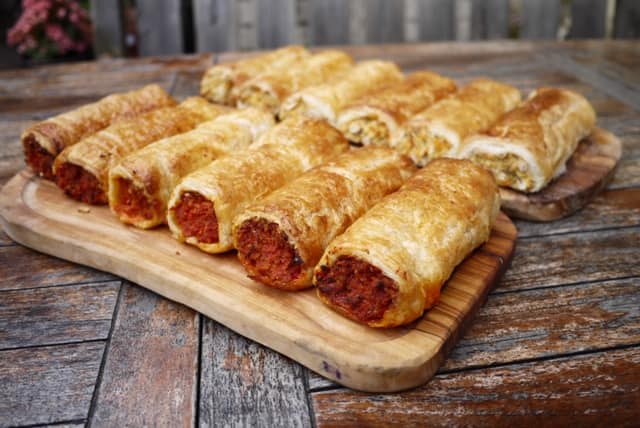 The Feastie Boys are really Pop up caterers who have regular spots and one offs around Brustol and further afield, we are just lucky to get them to provide us at The Golden Guinea with their fine sausage rolls.
Founded in 2014 by John Barrett and Ben Dass, who sadly passed away in 2017, The Feastie Boys have become one of the bedrocks of the Bristol East's foodie scene of the last few years.
In 2014 they made worldwide headlines after inventing and perfecting the beef filled donut. It was dubbed the 'moonut' and was Bristol's answer to the 'Cronut', a croissant crossed with a donut. It helped make The Feastie Boys one of the most sought after names on the pop up foodie circuit.
The Golden Guinea are firm supporters of locally sourced produce, be it beer from Brewers such as New Bristol Brewery, Arbor Ales, Bristol Beer Factory, Tiny Rebel and Left Handed Giant to name but a few through to local gins, ciders and soft drinks. So it goes without saying that we are over the moon to be supporting The Feastie Boys.
At The Golden Guinea we don't have a permanent chef and menu, instead we have Feastie Boys sausage rolls as well as protein pies and a wide variety of crisps and nuts. We also provide buffets for the many weekly private events in our function room. The catering of which can include delicious items from The Feastie Boys.
Anyway we hope you enjoy them and they do go down especially well with beer, which we do an awful lot of.....
Pop in and see us soon or if you'd like to enquire about hosting a party or an event give us a call on 0117 9872034 or fill in our contact form.